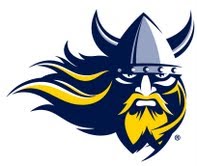 SIOUX FALLS, S.D. (KWSN) – Augustana closed out the Howard Wood relays by taking three individual titles and placing 16 in the top five on day two. Runa Falch and Clint Freiheit took home top individual honors with some late results from day one and Kayla Mescher made her collegiate debut in the 400-meter hurdles with a win.
Falch logged a provisionally-qualifying 17:11.71 in the women's 5,000-meter to lead the way. Kristin Brondbo wasn't far behind, taking third place.
Freiheit finished his two laps in 1:55.78 to take home the crown in the men's 800-meter run. Mescher won her 400-meter hurdles event and narrowly missed a provisionally-qualifying time with a 1:03.25, just half a second off the provisional mark.
Adam Braun finished second in the men's 5,000-meter run with a 14:52.78 time. Also in the distance events, Kaitlyn Yoerg tallied a fourth-place finish in the women's 1,500-meter run (4:47.43).
Vaughn Thada turned in a runner-up finish in the men's long jump, recording a best leap of 5.87 meters (19' 3.25"). The men's sprint medley relay also grabbed runner-up honors with a 3:41.65 time.
Kelsey Kauffman was the last Viking to collect a second-place finish with her 1.59-meter mark in the women's high jump – highest among attached jumpers. Kaite Guse took second and Andrea Whitney came in sixth.
Zach Jones earned a third-place finish with his 57.57-second 400-meter hurdles performance. Ryan Heuer grabbed fourth place accolades with a 15.19-seond run in the 110-meter hurdles and Calliann Brunswig placed fifth in the women's 100-meter hurdles (15.86 seconds).
Aaron Jung continued an impressive year with a fourth-place finish in the men's shot put, recording a best toss of 15.47 meters (50'9.25"). Katie Tonner's five-meter leap earned her fourth place in the women's long jump (16' 5").
Laura Popanz closed out the top-five placing with a 13.17-second 100-meter dash to earn fourth. The Vikings now turn their focus to the NSIC Outdoor Track and Field Championships which they will host at Howard Wood Field beginning on May 10 and ending on Saturday May 11.
Courtesy: Augustana College