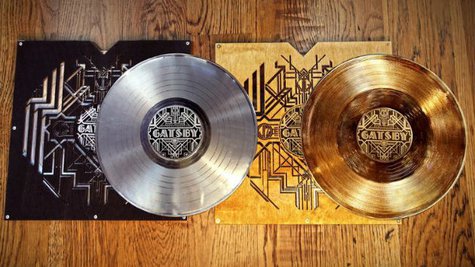 Jack White has cooked up something truly unique -- and incredibly expensive -- for the vinyl version of The Great Gatsby soundtrack. The ex- White Stripes singer has announced that his label, Third Man Records, will be releasing a limited edition deluxe version of the film's soundtrack on records made of platinum and gold.
The double album will run you $250, and will be housed in a laser-cut wooden LP jacket. You can pre-order the release through the Third Man Records website starting at 9 a.m. CT on Friday, the same day that The Great Gatsby film is released. If you live near Nashville, you can head down to the Third Man Records store to pick up your copy in person: they'll be offering 100 of the albums for sale starting at 10 a.m. CT the same day.
If you'd rather not spend that much money to get the deluxe version of The Great Gatsby soundtrack, you can pick up a standard vinyl edition of the double album on June 11. Pre-orders for that release will also be available on the Third Man Records website starting Friday.
The Great Gatsby soundtrack includes 17 tracks, including White's cover of the U2 classic "Love Is Blindness" and Gotye 's "Hearts a Mess," from his 2006 release, Like Drawing Blood . In addition, exclusive new tracks by Florence + the Machine , The xx and Lana Del Rey are part of the collection.
The Great Gatsby film, a big-screen adaptation of F. Scott Fitzgerald 's novel of the same name, stars Leonardo DiCaprio , Tobey Maguire and Carey Mulligan .
Copyright 2013 ABC News Radio