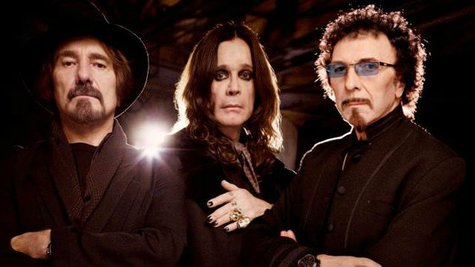 In advance of Black Sabbath 's appearance on CBS' CSI: Crime Scene Investigation , which airs this Wednesday, a behind-the-scenes preview video of the episode has been posted online. The three-minute clip features footage of Sabbath rocking out on stage and brief interviews with frontman Ozzy Osbourne , guitarist Tony Iommi and bassist Geezer Butler , as well as with CSI star Ted Danson .

As previously reported , Black Sabbath will appear as themselves and will be seen in concert giving a world-premiere performance of their new song, "End of the Beginning," from their upcoming album, 13 . The episode, titled "Skin in the Game," will focus on a serial killer who has used 14th century Italian poet Dante 's Inferno as inspiration for a series of murders.
In the preview, Butler reveals that he's a big CSI fan, noting, "I've watched every episode since it started, 'cause I like crime stuff and it was real realistic."
Osbourne, meanwhile, says he felt a bit out of his element shooting the show. "I'm not an actor," he declares. "It's like a 'hurry up and wait,' you know."
The singer adds, however, that he feels it was a good idea for Black Sabbath to appear on the program. "It's a good way of letting everyone know we're back together," he maintains.
Osbourne also chats a bit about 13 , his first studio album with Sabbath since 1978, which will be released on June 11.
"It's been a long time, but the wait's been well worth it because the album's really, really good," says Ozzy. "I'm pleased with the outcome."
Iommi, meanwhile, reports that he's quite happy with how the Sabbath reunion is going. "We've enjoy being together and playing, and it's been good fun," the guitar legend points out. "And we've been able to record the same way we did in the early days, where we all play live and Ozzy sings. It was a good way doing it."
As for Danson, he shares a bit about the plot of the episode and also reveals that the band's performance on the show was his first Black Sabbath concert.
CSI: Crime Scene Investigation airs at 10 p.m. ET/ 9 p.m. CT.
Copyright 2013 ABC News Radio