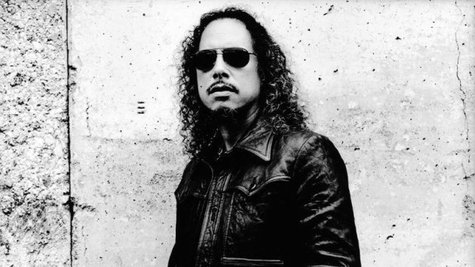 Horror movie fans will be happy to hear that Kirk Hammett is adding some new features to Kirk's Crypt, an installation filled with his personal collection of horror memorabilia, which will be available to those who attend Metallica 's upcoming Orion Music + More Festival.
"This year it's going to be so much better," said the guitarist in a video interview . "This year in the Crypt there will be some items that appeared in my [ Too Much Horror Business ] book that came out last year…[and] we're going to try to recreate certain scenarios that are in the book."
In addition to the exhibits, Hammett adds that he's booked a number of special guests to hang out at the Crypt. "We're going to have special effects artists, we're gonna have actors that were in prominent horror films [and] we're gonna have a little area where you can go and talk to your favorite guests and get autographs and pictures and whatnot," he reveals. "We're gonna make it as epic as possible."
The second annual Orion Music + More festival will take place June 8-9 at Belle Isle Park in Detroit, Michigan. In addition to headlining sets by Metallica and Red Hot Chili Peppers , the event also includes performances from Rise Against , Deftones , Silversun Pickups , Dropkick Murphys and Foals .
Copyright 2013 ABC News Radio