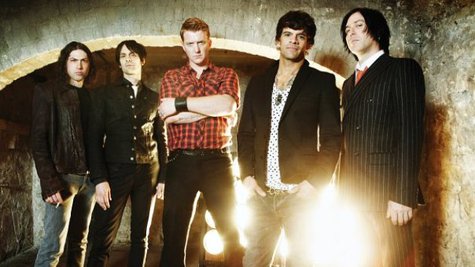 Queens of the Stone Age are sharing another preview of material from their upcoming album, ...Like Clockwork . A stream of " Keep Your Eyes Peeled ," which was performed during a session at Belgium's Studio Brussel last Wednesday, is now available online.
The performance is the third song to be leaked from that live set: streams of other new cuts, " I Sat by the Ocean " and " If I Had a Tail ," surfaced online last week.
...Like Clockwork arrives in stores on June 4. The album will feature a number of guest appearances, including Foo Fighters frontman Dave Grohl , Trent Reznor from Nine Inch Nails , Scissor Sisters vocalist Jake Shears , former Screaming Trees frontman Mark Lanegan , pop icon Elton John , former Mars Volta drummer Jon Theodore , and Arctic Monkeys frontman Alex Turner . In addition, the release will include two former QOTSA members: bassist Nick Oliveri and drummer Joey Castillo .
Copyright 2013 ABC News Radio