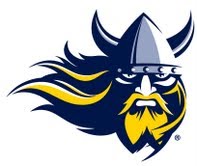 PITTSBURG, Kan. (KWSN) - Augustana softball players Theresa McMahon and Jenelle Tratumann were named to the Daktronics All-Central Region first team according to a release on Monday afternoon. The Vikings' season ended this past weekend at the NCAA Central Region Championships.
McMahon, a senior utility player, is making her first appearance on the Daktronics All-Central region squad after leading the Vikings in several offensive categories. The Hartford, S.D. native led the Vikings with 59 hits, 36 runs, and a .457 on-base percentage.
McMahon was second on the squad with a .353 batting average and 28 runs batted in. McMahon smashed nine home runs this season, second on the Vikings, and holds the record for career home runs at Augustana with 43. In the field, McMahon played catcher and outfield to near perfection. In 256 fielding attempts, the senior committed just one error for a .996 fielding average, second on the team.
Trautmann is making her second consecutive appearance after another record-setting season. Selected as the utility player/pitcher for the All-Central Region team, Trautmann tied her own school record with 18 home runs for the second consecutive year. She shares the record with McMahon. The sophomore Hastings, Minn. native led the Vikings in home runs, RBI (48), and slugging percentage (.731), while recording a .333 batting average and 52 hits, third on the team.
In the circle, Trautmann posted a 25-11 record while maintaining a 2.52 earned run average and holding opponents to a .241 batting average. The sophomore righthander racked up 208 strikeouts in 216.2 innings pitched. Trautmann's 25 wins ranks 10th in the Augustana record books for wins in a season.
Minot State's Jen Dixon was named Central Region player of the year and Fort Hays State's Maddie Holub earned Central Region pitcher of the year honors. McMahon, Trautmann, and all other first team members will advance to the Daktronics All-America ballot. The Vikings finished their season with a 32-17 overall record and finished sixth in the NSIC regular season with a 17-9 mark.
Courtesy: Augustana College and NSIC