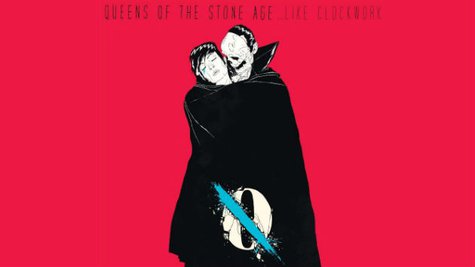 Queens of the Stone Age has unveiled the next chapter in their creepy animated series to promote their upcoming album, ...Like Clockwork . The two-minute clip picks up where the band left off in the " I Appear Missing " album teaser, and features a snippet of new cut "Kalopsia," which they describe as "a condition where things appear more beautiful than they are."
The video's storyline follows a sinister figure in a clown mask as he walks the streets killing people and breaking windows. After removing his mask, the creature begins crying at the sight of a psychedelic teddy bear while another man in a mask advances towards him.
...Like Clockwork arrives in stores on June 4. The album will feature a number of guest appearances, including Foo Fighters frontman Dave Grohl , Trent Reznor from Nine Inch Nails , Scissor Sisters vocalist Jake Shears , former Screaming Trees frontman Mark Lanegan , pop icon Elton John , former Mars Volta drummer Jon Theodore , and Arctic Monkeys frontman Alex Turner . In addition, the release will include two former QOTSA members: bassist Nick Oliveri and drummer Joey Castillo .
Copyright 2013 ABC News Radio