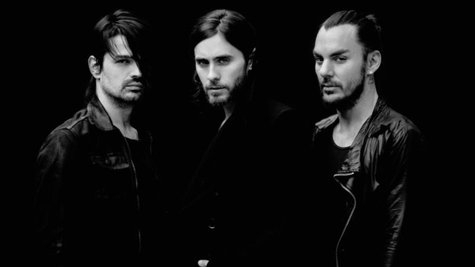 30 Seconds to Mars take us to Africa to experience what it's like to hunt for food in the new lyric video for "The Race," a cut from their upcoming fourth studio album, Love Lust Faith + Dreams.
The four-minute clip features the song's lyrics flashing across the screen, accompanied by slow-motion footage of a number of animals in the wild. The main storyline, however, focuses on a cheetah that's chasing a wildebeest. For the majority of the video, the large cat seems to running down the wildebeest, but once the cheetah gets too close, the wildebeest turns and begins to chase the cheetah.
"The Race is a song about the madness of love + life, the insanity of dreams, and about how -- at times -- prey can become the predator," says frontman Jared Leto in a statement.
Love Lust Faith + Dreams will arrive in stores on Tuesday and features 12 new tracks. If you pre-order Love Lust Faith + Dreams now at iTunes , you'll score an immediate download of "Up in the Air."
Copyright 2013 ABC News Radio