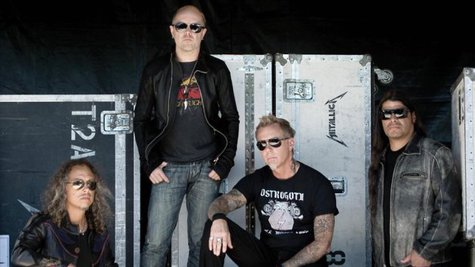 Metallica already has plans for Through the Never to hit theaters in America this fall, but now they're bringing the 3D film to the Cannes Film Festival in the hopes of screening it overseas. According to Variety , the band has partnered with Exclusive Media to screen and shop the film at the French fest so they can find an international distributor for it.
"After wading through multiple international distribution options for our film, we are excited to be partnering up with the folks at Exclusive Media, who we feel understand Metallica and understand our film better than anyone else," says drummer Lars Ulrich in a statement. "Throw in the cherry-on-top, launching our international sales with a couple of screenings at the film market during a little up-and-coming film festival in Cannes, and it feels like we're off to a pretty rockin' start."
Through the Never will premiere exclusively at every IMAX theater across North America for a full week starting September 27. After the flick has its run in the IMAX theaters, it will expand into additional cinemas starting October 4.
Copyright 2013 ABC News Radio