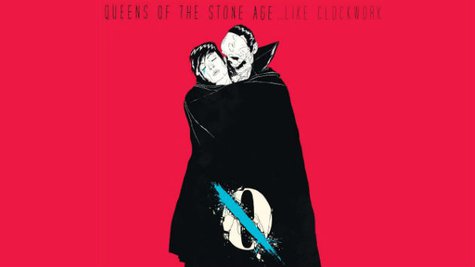 Queens of the Stone Age has unveiled the final chapter of their creepy animated series to promote their upcoming album, ...Like Clockwork . The final installment wraps us all the storylines from the other short films, and serves as the video for the single "My God Is the Sun."
The four-minute clip begins with a giant, black-winged skull breaking out of the ground and floating toward the heavens. As the skull ascends, all of the characters who died in the previous films come back to life. The skull then uses some magical powers to levitate the newly-revived characters into the sky, where the skull proceeds to swallow them. The end of the clip shows the bandaged man in a suit to whom we were introduced in the " I Appear Missing " teaser getting thrown back to the ground in the same spot where we first met him.
...Like Clockwork arrives in stores on June 4. The album will feature a number of guest appearances, including Foo Fighters frontman Dave Grohl , Trent Reznor from Nine Inch Nails , Scissor Sisters vocalist Jake Shears , former Screaming Trees frontman Mark Lanegan , pop icon Elton John , former Mars Volta drummer Jon Theodore , and Arctic Monkeys frontman Alex Turner . In addition, the release will include two former QOTSA members: bassist Nick Oliveri and drummer Joey Castillo .
Copyright 2013 ABC News Radio