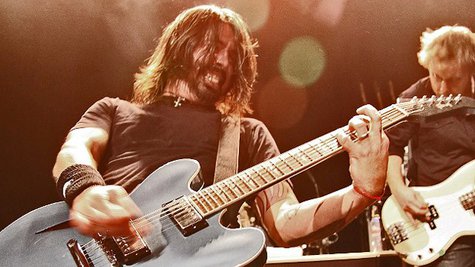 The Rolling Stones on Saturday night welcomed another special guest to their 50 and Counting tour: Foo Fighters frontman Dave Grohl .
Grohl joined the Stones at their concert in Anaheim, California, sharing vocals with Mick Jagger on "Bitch," from the Stones' 1971 album, Sticky Fingers .
The Foo Fighters' official Twitter feed spoiled the surprise earlier in the day, writing , "Hey So Cal...Guess who's making a guest appearance at the @RollingStones show in Anaheim tonight? Hint... it's Dave."
On Sunday, the band's Facebook page posted a link to fan-filmed video on YouTube of Grohl's appearance.
The collaboration came approximately one year after the Foo Fighters played with Jagger on the 2012 season finale of Saturday Night Live .
The Stones previously have invited Katy Perry , Gwen Stefani and Keith Urban onto the stage during their current tour.
Copyright 2013 ABC News Radio