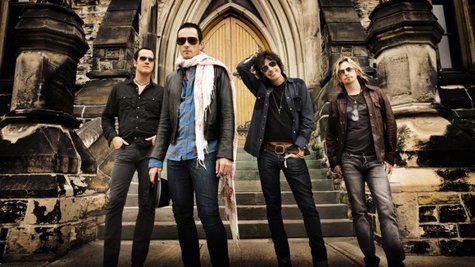 The members of Stone Temple Pilots are taking Scott Weiland to court. On Friday, the group filed a lawsuit with the Los Angeles Superior Court claiming that their former frontman used STP's name and assets to promote his solo career in breach of their partnership agreement.
The group is seeking to block Weiland from using the band's name and their songs in his solo career, claiming that STP owns the rights to all the group's assets and that no former member of the band can use them as per agreements they made in 1996 and 2010.
STP also alleges that Weiland sabotaged last year's plans for a tour commemorating the 20th anniversary of their debut album, Core , by showing up late for performances and not communicating with them to create a tour schedule. In addition, STP claims that Weiland's lawyer attempted to block a Los Angeles radio station from playing the band's new single, "Out of Time," featuring Linkin Park frontman Chester Bennington .
While Weiland has yet to react to the lawsuit, the singer did post an open letter to fans on his website on Friday regarding STP's recent performance in Los Angeles with Bennington as their lead singer. Weiland says that he was "hurt" by the performance, and that it was wrong for the band to use the STP name without him as the lead singer.
"They don't have the legal right to call themselves STP because I'm still a member of the band," he writes. "And more importantly, they don't have the ethical right to call themselves Stone Temple Pilots because it's misleading and dishonest to the millions of fans that have followed us for so many years. I don't give a f**k what they call themselves, but it's not Stone Temple Pilots."
Weiland is currently out on tour with his new band, The Wildabouts , where they'll perform tracks from the STP's first two albums: 1992's Core and 1994's Purple .
Copyright 2013 ABC News Radio