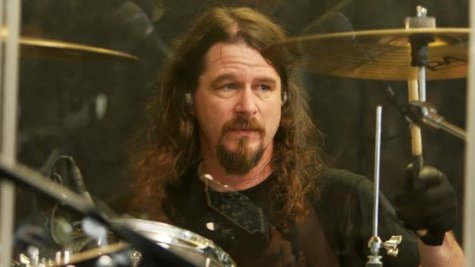 It appears that Slayer 's issues with drummer Dave Lombardo have come to a head: the band has just announced that former drummer Paul Bostaph will now be seated behind their drum kit on a full-time basis.
"Paul's a great drummer and a good friend, and we're very happy that he's decided to rejoin the band," said frontman Tom Araya in a statement. "We're still pretty numb from the loss of [founding guitarist] Jeff [ Hanneman ], but we don't want to disappoint our European and South American fans, and we need to begin moving forward...having Paul back in the band makes that a whole lot easier." Hanneman died May 2 of liver failure at age 49.
Bostaph, who served as Slayer's drummer from 1992 until 2001, adds he's excited to be back with the group. "We spent a very intense ten years of our lives together, had a lot of fun, made a lot of great music, so for me, this feels like coming home," says the drummer in a statement.
Lombardo had been on the outs with Slayer since February, when he announced in a lengthy posting on his Facebook page that he wouldn't be joining the band on their Australian tour following a disagreement over financial issues.
Slayer will be embarking on a massive tour overseas this summer, beginning with an appearance at the Impact Festival in Warsaw, Poland on June 4. Visit Slayer.net to view the full itinerary.
Copyright 2013 ABC News Radio