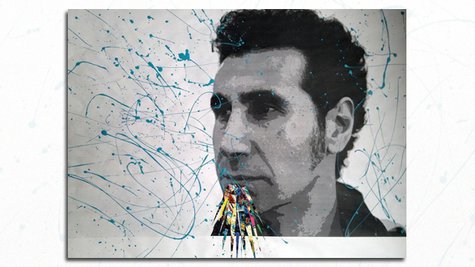 Serj Tankian has revealed that he's working on a new project which showcases his skills as a musician and as a visual artist. The System of a Down frontman says that he's created a series of paintings that were inspired by an original piece of music.
"I have a number of painter friends and…I hang out with them and they listen to music when they paint and I thought, 'How can I make a certain piece of music as original as a work of art,'" he tells ABC News Radio. "So I thought, 'Why don't I write a piece of music and then create the painting for that piece of music?' And I did that."
Tankian adds that the artwork he's creating has a central theme which he first experimented with on System of Down's 2005 albums, Mezmerize and Hypnotize . "One of the primary common denominators of my artwork has been clocks without arms," he reveals. "This goes back for many years with some of my suggestions for the artwork for Hypnotize / Mezmerize with System and I'd gotten all these clocks that I had taken the arms off and written poetry on and given it to the guys and [producer] Rick Rubin years ago, so I had that concept in mind."
The singer also notes that he experimented with a number of unusual and improvised techniques while making his paintings. "The first of that experiment was getting on a large step-ladder, filling water balloons with different color paint and starting to, kind of, splatter the canvas and then making something out of that," Tankian explains. "The other one was…I thought, I wonder if anyone's used the tires of a car as a paintbrush, so I put all these paints on canvas without mixing them and then ran over it with my car seven times to see how it would mix."
While Tankian has yet to announce when we will get to see all of his artwork, he expects to stage some exhibitions sometime before the end of the year. In addition, he plans on selling some lithographs of his work in the near future.
Copyright 2013 ABC News Radio