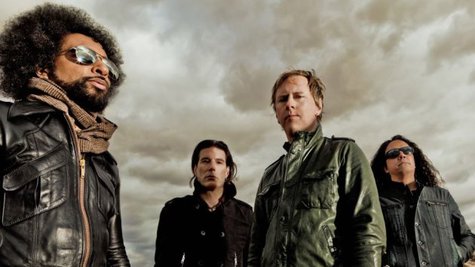 Singer/guitarist William DuVall hopes that Alice in Chains ' recently-released album, The Devil Put Dinosaurs Here , will silence critics who have issues with the group continuing without its original frontman, Layne Staley , who died in 2002.
"That question was settled…on [2009's] Black Gives Way to Blue... but it took that much more effort to kind of shut out the noise of the outside world and only deal with what we were doing," DuVall tells Billboard.com . "That was very much 'the first one,' and there was a feeling of exerting our right to exist. This one had a little more of a comfortable, easy feeling."
Guitarist Jerry Cantrell adds that The Devil Put Dinosaurs Here features all-new material, and that they didn't recycle any ideas from their previous releases. "We started from zero, and that's pretty much what you want to do most every time," he explains. "There's an occasional lingerer between records sometimes, but not on this one. The best place to start is to completely forget what you did."
Alice in Chains is currently on tour overseas, but the band will return to kick off the next leg of its North American tour with an appearance at Fox Fest in Vancouver, Canada on July 1. Visit AliceInChains.com to view the full itinerary.
Copyright 2013 ABC News Radio