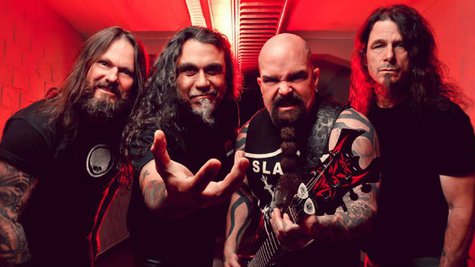 Back in May, Slayer suffered a huge setback when they lost founding member and guitarist Jeff Hanneman , who died at the age of 49 from liver failure. Bassist/vocalist Tom Araya says he and guitarist Kerry King are still in shock about Hanneman's death, and they have yet to figure out the band's next move.
"We've never really had an opportunity to really sit down and discuss what we're feeling and where we are and where we want to go," he tells Billboard . "Jeff was a big part of the band; some people are just now realizing that, but I've always known it. So Kerry and I have a lot of thinking to do, a lot of talking to do and we haven't been in a place to do that yet."
While Araya notes that the group recorded some new material with Hanneman before he died, the bassist isn't sure if the tracks will ever be released. "The new record idea was brought up a few years back," he explains. "I had injured my back and wasn't able to make the recording sessions that they had with Jeff, Kerry and [former drummer] Dave [ Lombardo ] and started to putting ideas together for a new album. Now we're basically at a point where, 'What are we gonna do?' with that stuff. And we won't know until we talk."
Slayer is currently out on tour playing sets which include a large number of cuts from the band's first five albums: 1983's Show No Mercy , 1985's Hell Awaits , 1986's Reign in Blood , 1988's South of Heaven and 1990's Seasons in the Abyss . Visit Slayer.net to view the full itinerary.
Copyright 2013 ABC News Radio