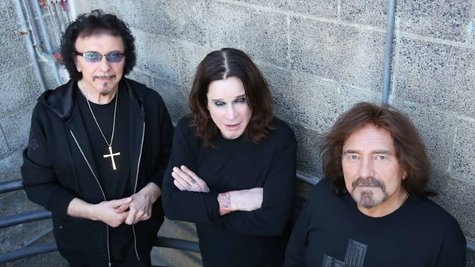 Black Sabbath , Led Zeppelin and Rush were among the winners at U.K. magazine Classic Rock 's 2013 Roll of Honour Awards , which took place Thursday night in London.
Black Sabbath took home three trophies at the event, the most of any act. In addition to receiving the Living Legend Award, Black Sabbath's 13 beat out the competition for Album of the Year and picked up the Event of the Year trophy for hitting #1 on the charts after 43 years.
"I never thought I'd be standing here, what, 45 years later?," frontman Ozzy Osbourne told the crowd during one of the band's acceptance speeches. "It's an incredible event for us all. We're still in shock. It's been an incredible year, after I spent all those earlier ones trying to kill myself."
Led Zeppelin's Celebration Day , the concert film focusing on the group's 2007 reunion show, won the honor for Film of the Year, while Rush guitarist Alex Lifeson snagged the Spirit of Prog Award. The Darkness didn't leave empty handed, either: the group won the award for Showman of the Year.
Here is the complete list of 2013 Classic Rock Roll of Honour winners:
The Living Legend Award -- Black Sabbath
Event of the Year -- Black Sabbath hits No. 1 after 43 years
Breakthrough Act of the Year -- The Virginmarys
The Musicians' Union Maestro Award -- James Dean Bradfield of Manic Street Preachers
Tommy Vance Inspiration Award -- Rory Gallagher
Outstanding Contribution -- Mott the Hoople
Innovator -- Wilko Johnson
Classic Album Award -- John Mayall's Blues Breakers with Eric Clapton
VIP Award -- Shep Gordon
Metal Guru Award -- Zakk Wylde
Best New Band -- The Temperance Movement
Album of the Year -- Black Sabbath's 13
Reissue of the Year -- Fleetwood Mac's Rumours 35th Anniversary Edition
Film of the Year -- Led Zeppelin's Celebration Day
Band of the Year -- The Rolling Stones
Spirit of Prog Award -- Alex Lifeson of Rush
Showman of the Year -- The Darknesss
Copyright 2013 ABC News Radio