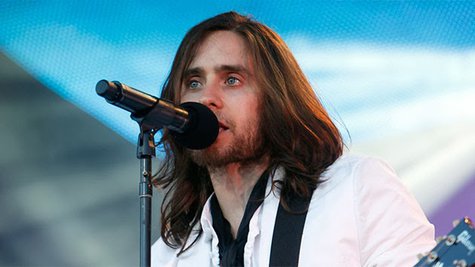 Jared Leto pulled off a stunning transformation to play a 1980s transsexual with AIDS in Dallas Buyers Club. Leto dropped 30 pounds for a performance that's garnered the 30 Seconds to Mars frontman much Oscar buzz. Leto, however, doesn't really want to talk about it.
When the topic was raised by E! News , Leto avoided the question by replying, "It's nice, but I think they should put some underwear on him," referring to the coveted golden statue. Laughing, he continued, "He's a freeballer. And he's got a very big sword so there are lots of Freudian things happening right here."
Leto did go so far as to say, "It's nuts. They don't give Oscars to people like me!" Still, the 41-year-old appreciated the fact that many loved his performance as Rayon. "It's surreal," he said. "It's so great. I'll tell you what -- anybody that has anything negative to say about the process needs to see a doctor. There are much worse things to do than have your film supported and celebrated."
Leto said the recognition is especially great given that Dallas Buyers Club is the first film he's made in years. "I hadn't made a film in so long, I'm lucky I remembered how to act, to tell you the truth," he added. "I just dove in deep and did that best that I could."
Dallas Buyers Club, which also stars Matthew McConaughey and Jennifer Garner , is playing in select theaters across the U.S.
30 Seconds to Mars is currently touring overseas, but they'll be back to kick off the next leg of their North American tour on November 29 at the Rialto Theater in Tucson, AZ.
Copyright 2013 ABC News Radio