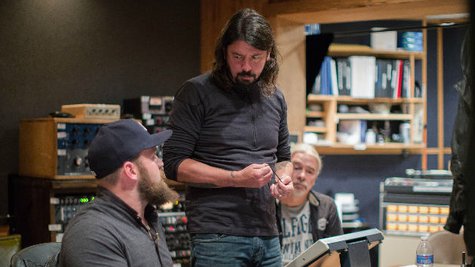 Hard-rocking country act Zac Brown Band has set a release date for their new project, which was produced by Dave Grohl . Titled The Grohl Sessions Vol. 1 , the album will be available exclusively on iTunes December 10.
The guys unveiled a behind-the-scenes video on Tuesday via YouTube , which includes interviews with Grohl and the band, as well as footage of the Foo Fighters frontman playing drums on two tracks: "Let It Rain" and "Day for the Dead." In the clip, Grohl notes he was very impressed with Zac Brown Band's skills during the sessions.
"I'm not sure if there are any bands like them, they just seem to go in any direction they feel like going, and they do it comfortably," says Grohl. "There's never anything really forced about what they do. I swear to God if I weren't in my band I would be in this f**king band. I am not kidding, I would be in this band in a f**king heartbeat."
Frontman Zac Brown adds, "Dave is a musical genius. It's been amazing to play with him on stage and get to spend time working with him in the studio. We are excited for fans to hear the music we've been able to create together."
Copyright 2013 ABC News Radio