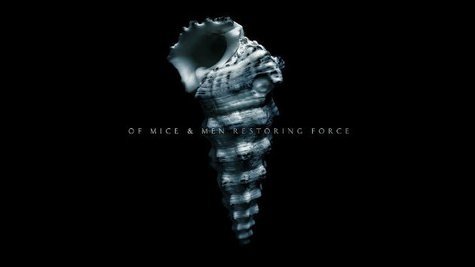 Of Mice & Men has revealed the title and release date for their third studio album. Restoring Force will arrive at all the usual outlets on January 28.
Frontman Austin Carlile says he feels the upcoming release will be a fitting follow-up to 2011's The Flood . "What happens after The Flood ?" he says in a statement. "You return to normal. You find balance again. That's what we felt like we were doing with this album. We wanted this record to bring equilibrium back to our band and music. We're letting everyone know that we're here to stay. We're Restoring Force ."
Restoring Force is available for pre-order now at OfMice.MerchNow.com in a variety of bundles, which include exclusive merchandise, autographed promotional posters, limited-edition 12-inch vinyl LPs and more.
Of Mice & Men will be hitting the road early next year with Bring Me the Horizon to support Restoring Force . The bands will kick off The American Dream Tour, which will take them across North America, starting February 3 at The Plaza 'Live' Theater in Orlando, FL. Visit OfMiceAndMenOfficial.com to view the full itinerary.
Copyright 2013 ABC News Radio