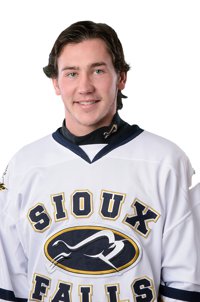 Sioux Falls, SD (KWSN)--The United States Hockey League (USHL) announced Monday that Zeb Knutson has been named CCM Forward of the Week for the second consecutive week.
The second-year forward made history last Friday night by recording four goals and an assist in a 6-5 victory at Indiana. Knutson tallied his fourth goal late in the third period that proved to be the game winner. He became just the third Stampede player to ever record three goals in a game, joining Thomas Vanek and Robbie Vrolyk.
On Saturday, Knutson recorded the Stampede's first goal of the game in a 5-4 win at Cedar Rapids. The Sioux Falls native has eight goals and one assist and is a plus-8 through the first three games of the season.
Last season, Knutson posted 51 points 26g, 25a) in 61 games while helping lead the Stampede to a regular season Western Conference championship. He has already committed to play collegiate hockey at Minnesota State-Mankato starting with 2014-15 season.
Knutson and the Stampede return to action this Friday when they skate in their home opener against Omaha at 7:05 PM at the Sioux Falls Arena. Tickets are available and can be purchased through the Sioux Falls Arena box office or any Ticketmaster location.
This Wednesday, the Stampede will be hosting a Select-A-Seat/Hockey 101 night from 4:30 to 7 PM at the Sioux Falls Arena. Season ticket holders can pick up their tickets and watch practice as well as a Hockey 101 demonstration with players and coaches. For fans interested in potential season tickets or mini plans, the best available seats will be marked during the event, allowing fans the chance to try out their seats during practice. Click here for more information.
Follow the Stampede all season long by downloading the Stampede mobile app! Just search Sioux Falls Stampede on you android or iPhone device. Follow the Stampede on Facebook and Twitter as well @sfstampede for "15 Days of Giveaways" now through the home opener.
Courtesy of Sioux Falls Stampede