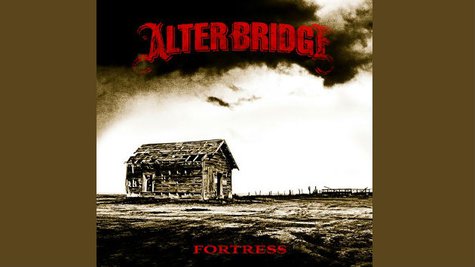 It appears we have Alter Bridge 's European fans to thank for the group's heavier sound on the upcoming album, Fortress . Guitarist Mark Tremonti says the band decided to explore some new creative avenues after making appearances at a number of festivals overseas.
"When me and Myles were putting it together, we wanted to make sure the album was fun to play, so fun equals heavy in our world," he tells ABC News Radio. "Most of the record turned out to be a heavier record, and I think a lot of it has to do with our European fan base. We've done these festivals and all these shows and every time we play a heavy song, crowd goes wild."
While some fans may be concerned about Alter Bridge adopting heavier riffs, Tremonti notes it's healthy for a band to experiment with its signature sound. "It's not such a departure that people will be afraid of the record, and not like Alter Bridge anymore," he explains. "I think it just shows a natural progression of the band and…we're just trying to keep growing and not just keep regurgitating the same old thing."

Fortress will arrive in stores on October 8. Alter Bridge will celebrate the record's release with their only scheduled US concert on October 4 at the House of Blues in Orlando, FL. Shortly after, the group will go on an extensive European tour that runs from October 16-November 16, with Shinedown and Halestorm supporting the band on select dates.
Copyright 2013 ABC News Radio