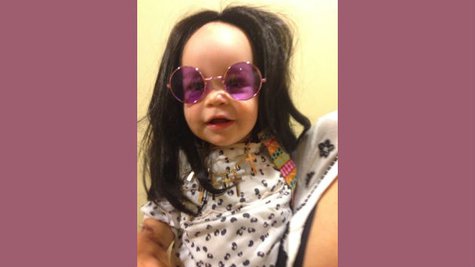 Ozzy Osbourne may be known as the Prince of Darkness, but we're sure his day must have brightened up when he saw the photo of his 18-month-old granddaughter Pearl that his son Jack recently posted on Twitter . The picture shows little Pearl dressed up as her rock-star grandpa, complete with long wig, a necklace of crosses and round glasses with purple lenses just like Ozzy's.
The 27-year-old Jack, who's currently appearing in Dancing with the Stars , posted a simple note to accompany the cute pic that reads "The Princess of Darkness." Jack's wife, Lisa , meanwhile, revealed on her own Twitter account that the costume was a gift from Ellen DeGeneres .
Ozzy likely will have to wait a bit before he sees Pearl in the getup in person. His band Black Sabbath kicked off a Latin American tour on Friday in Santiago, Chile, that will run through an October 26 concert in Mexico City. At least he'll be home in time for Halloween!
Copyright 2013 ABC News Radio