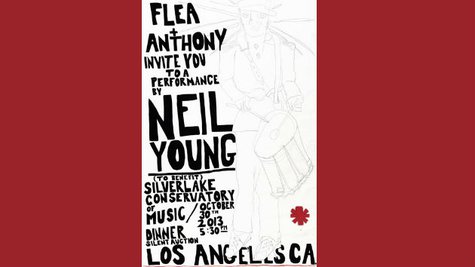 Red Hot Chili Peppers and rock veteran Neil Young will take the stage at an October 30 benefit show in Los Angeles to raise money for the Silverlake Conservatory of Music, the nonprofit music school Chili Peppers bassist Flea founded in 2001. Flea and RHCP frontman Anthony Kiedis will co-host the event, with proceeds going toward buying a permanent facility for the school and to fund its scholarship program.
"Going into our 13th year of the Silverlake Conservatory of Music, flourishing with 700 students as a nonprofit community music school, I could not be more grateful for all the people who have helped us out along the way," says Flea in a statement. "Having one of my favorite musicians Neil Young perform to help out the school is the greatest blessing! This is gonna be the funnest fundraiser ever!"
In addition, the benefit also will include dinner and a silent auction featuring items donated by Chili Peppers drummer Chad Smith , Pearl Jam , The Strokes , Rancid frontman Tim Armstrong , director Gus Van Zant , album-cover artist Shepard Fairey , the Los Angeles Dodgers, the Los Angeles Lakers and many others.
Silverlake Conservatory of Music provides free music instruction and instruments to young people in the Silver Lake region of L.A.
In order to attend the intimate gathering, you'll need to donate a minimum of $2,000. Visit SilverLakeConservatory.org for more information.
Copyright 2013 ABC News Radio