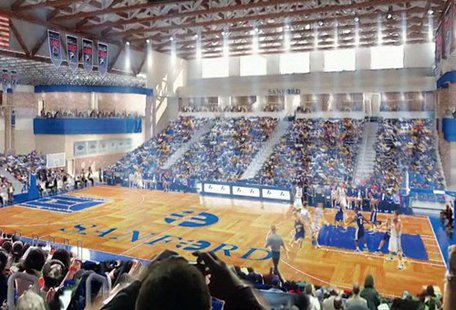 SIOUX FALLS, SD (KWSN)– The fifth annual South Dakota High School Basketball Coaches Association Sanford Pentagon Basketball Coaches' Clinic is Saturday at 8:30 a.m. at Lincoln High School.
Five coaches, including St. John's University's Steve Lavin, comprise the schedule for the event. Other coaches include Joe Dooley of Florida Gulf Coach University, Kyle Green of the University of Northern Iowa, Ryan Larsen of South Dakota School of Mines & Technology and Aubrey McCreary of Elite Performance Training.
Event organizers expect about 150 coaches on Saturday.
Schedule of Presentations 8:30 a.m. to 9:30 a.m. – Steve Lavin, St. John's 9:45 a.m. to 11 a.m. – Joe Dooley, Florida Gulf Coast 11:30 a.m. to 12:30 p.m. – Kyle Green, Northern Iowa 2 p.m. to 3 p.m. – Aubrey McCreary, Elite Performance Training 3:30 p.m. to 4:30 p.m. – Ryan Larsen, South Dakota School of Mines & Technology
Each coach will be available for media interviews following their presentations (please note Lavin's interviews must be completed by 10 a.m.).
See the attached document for more information.
About the Sanford Pentagon The cornerstone of the Sanford Sports Complex in Sioux Falls, SD, is the Sanford Pentagon, a 160,000-square-foot, five-sided facility featuring nine basketball courts, including the 1950s/1960s-inspired Heritage Court. The venue combines state-of-the-art amenities—including high-definition video boards and executive suites—with period-specific finishes that are a nod to the nostalgic days of basketball.
The 3,200-seat Pentagon is home to Sanford POWER Basketball Academy, Sanford POWER Volleyball Academy, the NBA D-League's Sioux Falls Skyforce, the Northern Sun Intercollegiate Conference Women's and Men's Basketball tournaments and the South Dakota High School Basketball Hall of Fame. For more information, visit sanfordpentagon.com.
Courtesy of Sanford Media