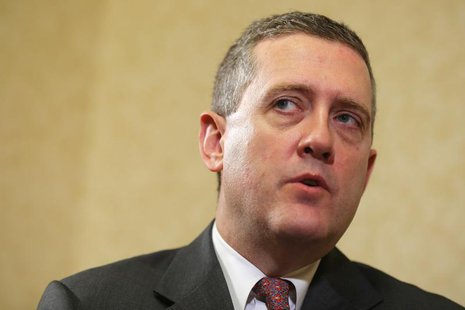 ST. LOUIS (Reuters) - The head of a Federal Reserve branch known for its out-of-the-box theories said on Thursday the U.S. central bank has struggled in the last few years to respond to economic realities and should better embrace what he called "frontier research."
James Bullard, president of the Federal Reserve Bank of St. Louis, did not comment on current monetary policy or the economy in remarks to a conference here.
"The Fed and central banks around the world have struggled to devise appropriate policy responses to the current macroeconomic situation" in the past few years, he said according to prepared remarks.
"Advanced economic theory has to be made more relevant for actual policy, and actual policy has to understand and embrace the difficult ideas advanced in the theoretical world."
Bullard is usually seen as a policy centrist, but has become one of the central bank's most vocal doves due to concern that inflation remains too far beneath the Fed's goal of 2 percent, which he worries could lead to damaging deflation.
A voting member this year on the Fed's policy committee, Bullard supported the shock decision last month not to trim the current $85-billion monthly pace of bond purchases, which are meant to spur investment, hiring and growth. Markets at the time reacted sharply to the decision, with stocks soaring globally, but now the move seems prescient given this month's fiscal gridlock in Washington.
(Reporting by Jonathan Spicer; Editing by Chizu Nomiyama)