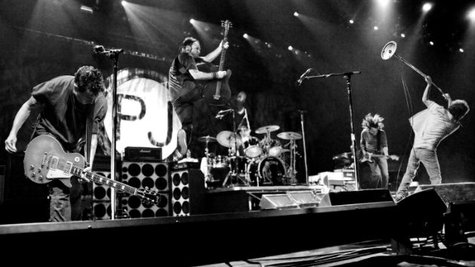 Pearl Jam will become the latest artist to be saluted with a week-long tribute by NBC's Late Night with Jimmy Fallon . The series of shows will take place from Monday, October 21 through Friday, October 25 and will celebrate the release of the group's Lightning Bolt album, which hits stores on October 15.
Soundgarden frontman Chris Cornell will kicks things off on Monday with a performance of "Footsteps," supported by members of The Avett Brothers , while Fleet Foxes frontman Robin Pecknold will tackle Pearl Jam's hit "Corduroy" with a number of "special guests" on Tuesday. Country star Dierks Bentley will team up with Pearl Jam guitarist Mike McCready and Late Night house band The Roots for a special performance on Wednesday night, while Pearl Jam will take the stage to perform tracks from Lightning Bolt on Thursday and Friday nights.
Other artists who've received similar tributes on Fallon include Pink Floyd , The Rolling Stones , Bob Marley , and Bruce Springsteen .
Late Night with Jimmy Fallon airs weeknights at 12:35 a.m. ET.
Copyright 2013 ABC News Radio