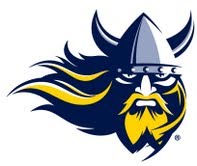 SIOUX FALLS, S.D. (KWSN) - Augustana squandered an eight-point lead in the first set and couldn't recover as they lost in three sets to No. 17 Wayne State on Tuesday night. The 28-26, 25-18, 25-10 loss drops the Vikings to 16-4 on the season, 8-4 in Northern Sun Intercollegiate Conference competition.
The Wildcats pull within one game of the Vikings in the NSIC standings with a 7-5 conference record and a 16-6 overall mark.The Vikings were held to season lows in kills and attack percentage as they mustered just 31 kills and a .057 attack percentage (31-24-123) in the loss. Courtney Ysker led the Vikings with 10 kills, but also committed seven errors.
Wayne State hit .267 (43-11-120) and limited the Viking offense with 62 digs and eight blocks.Augustana looked to replicate their commanding sweep of the Wildcats earlier in the season, but Wayne State battled back from a 23-15 deficit and took the first set, 28-26.
Brittany Cech tallied three service aces during a five-point run that broke an 11-11 tie before WSC answered with three straight points to close the gap to 16-14.The Vikings expanded their first-set lead to eight points by taking seven of the next eight points aided by four Wayne State errors. The Wildcats forced a pair of Augustana attack errors and piled on six kills to erase the Viking lead. Cori Hobbs' eight-point serving run was ended by a service error giving Augustana a chance at match point.
The Vikings failed to convert and Wayne State's momentum carried them to a 28-26 first-set win.After the demoralizing first-set loss, Wayne State used an early run to build a lead they would not surrender, winning the second set 25-18.
The Vikings' offensive woes led them to a -.048 attack percentage in the second set as they only managed 10 kills with 12 attack errors.After the intermission, the Wildcats made quick work of the Vikings in the final set with a 25-10 win to earn the victory. Hobbs again led the WSC charge by serving the Wildcats to a nine-point run, building a 16-5 lead over Augustana.
Hobbs collected a match-high 11 kills, the only Wildcat to reach double digits.Bailey Koch made her first-career start for the Vikings and tallied three kills with no errors. J
ulia Wit and Ysker recorded team-high 13 digs each and Cech added 10 for her eighth-straight match with at least 10 digs.
The Vikings continue their three-match home stand with St. Cloud State on Friday, Oct. 5 at 7 p.m.
Courtesy: Augustana College