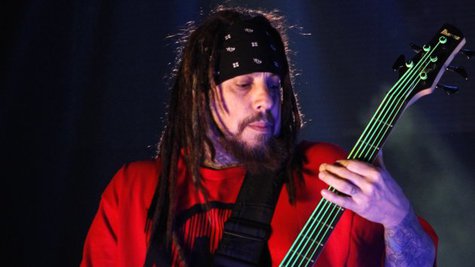 Korn bassist Reginald Arvizu , a.k.a. Fieldy , has revealed he's been working on a new solo project. The upcoming release will be an album of instrumentals, which will feature the bassist experimenting with a variety of styles and genres.
"I did, like, 20 songs for a bass solo album, the title is called Basically ," he tells ABC News Radio. "I played stand-up basses, fretless basses, I got a 15-string bass. And we did some cool things, like, because we wanna be different. I did from jazz fusion, funk, Latin, blues, you know, lead basses, layering basses and it just takes you on this musical journey."
While most of Basically will feature Fieldy being backed up by a drum machine, the record will include guest appearances by Korn drummer Ray Luzier on a few of the cuts. The drummer notes he found some inventive ways to create drum tracks for the upcoming album.
"I did some made up percussion stuff, like we'd literally have a cup full of, like, change and seashells and I'd shake it," Luzier tells ABC News Radio. "And then…backstage [at a Korn show] we recorded a drum track, I pulled a floor tom off my kit and a snare and a hi-hat and it's come out way better than…we thought."
While a release date for Basically has yet to be announced, Fieldy notes that all the tracks have been recorded and he hopes to release the album soon.
Copyright 2013 ABC News Radio