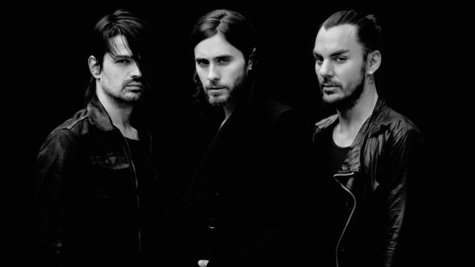 30 Seconds to Mars has decided to release something unique to promote "City of Angels," the next single from their upcoming fourth studio album, Love Lust Faith + Dreams . On Tuesday, the band posted a short film, directed by frontman Jared Leto under his pseudonym Bartholomew Cubbins , which serves as an extended video for the single.
The eleven-and-a-half-minute film features footage of the band performing "City of Angels" on a scenic overlook in Los Angeles at night, interspersed with interview clips featuring the band and a number of renowned artists, actors, and athletes telling stories about living in Tinseltown. The celebrities featured in the video include rapper Kanye West , pop star Selena Gomez and actors James Franco , Lindsay Lohan , Juliette Lewis , Olivia Wilde , Alan Cumming and Corey Feldman .
Leto reveals his own story about his struggle for fame in the clip, noting how he wound up in Los Angeles. "As I got older I realized that if I wanted to make some of my creative dreams come true that I needed to go west," he explains. "I put on a backpack, saved up a couple hundred bucks and I came to Los Angeles to make myself."
30 Seconds to Mars is currently touring overseas, but they'll be back to kick off the next leg of their North American tour at the Joint in Las Vegas, Nevada on November 30. Visit ThirtySecondsToMars.com to view the full itinerary.
Copyright 2013 ABC News Radio