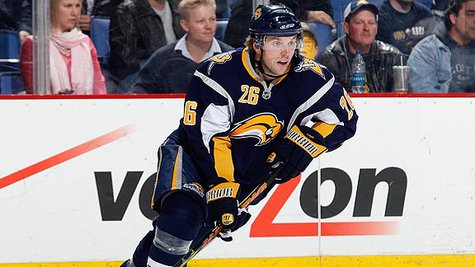 Buffalo, NY (KWSN)- Former Stampede star Thomas Vanek was traded by the Buffalo Sabres to the New York Islanders Sunday night. The Islanders acquired Vanek in exchange for left winger Matt Moulson, New York's first-round pick in 2014 and a 2015 second-round pick.
Vanek, 29, has four goals and five assists in 13 games for the Sabres this season. He was named co-captain of the Sabres this season and has worn the "C" during the team's home games. He has 254 goals and 243 assists in 598 games, all with the Sabres. The 6-foot-2, 217 pound forward has played in 36 Stanley Cup Playoff games, totaling 20 points (15 goals, five assists).
The Sabres selected Vanek in the first round (fifth overall) of the 2003 NHL Draft, making him the highest selected Austrian hockey player in league history. He represented Buffalo at the 2009 NHL All-Star Weekend in Montreal, QC.
The Vienna, Austria native played for the Stampede from 1999 to 2002 and is the Stampede's all-time leading scorer, posting 153 points in 108 career games.
Courtesy of Sioux Falls Stampede