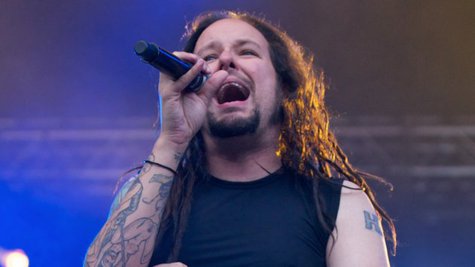 While Korn has welcomed co-founding guitarist Brian "Head" Welch back into the band, frontman Jonathan Davis isn't keen on reuniting with former drummer David Silveria .
Silveria posted a lengthy message on his Facebook page last month, noting that he hasn't been happy with the band's sound since 1999's Issues , and that he'd like to rejoin the guys and help them rediscover their musical roots. When asked if Davis would consider bringing the former drummer back into the fold, the singer explains that's he's happy with the band's current lineup and has no plans to reunite with Silveria any time soon.
"I don't wanna say any negative stuff, but where we're at right now is perfect and Ray [Luzier] is an amazing drummer," Davis tells U.K. magazine Metal Hammer . "He fits in good and doesn't have any typical drummer's complexes."
The Paradigm Shift , Korn's first release to feature Welch since 2003's Take a Look in the Mirror , is due October 8. The album will be released in both standard and deluxe editions. The deluxe version will contain two bonus tracks plus a DVD of the new documentary, Reconciliation .
Copyright 2013 ABC News Radio