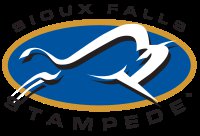 Sioux Falls, SD (KWSN) —The Sioux Falls Stampede are excited to announce their training camp roster for the upcoming 2013-14 season. Camp officially kicks off tonight at 7 PM with the first organized practice of the season at the Sioux Falls Ice & Recreation Center. It will also officially begin the Stampede's 15th season in the United States Hockey League (USHL).
14 players from last year's regular season Western Conference championship team return to Sioux Falls, including four of the Herd's top five scorers on that record setting team. Overall, 27 players have been invited to camp. Click here for the entire list.
Offensively, the Herd return their leading scorer from a year ago, Dennis Kravchenko. The San Clemente, CA native tallied 63 points (22g, 41a) in 56 games. His six game-winning goals were second most on the team. Also returning are fellow forwards C.J. Franklin, who led the team in goals scored with 32 and was second on the team in scoring with 60 points (32g, 28a), and Sioux Falls native Zeb Knutson who posted 51 points (26g, 25a) in 61 games. The number one overall pick of the 2012 USHL Draft, Tony Calderone, also returns after recording 44 points (29g, 15a) while appearing in all 64 games. Other returners include Ian Mansfield, Cody Milan, Joe Schuldt, Conner Valesano, and Jake Ahlgren.
Some newcomers offensively to keep an eye on include second round pick Michael Buonincontri. The 6-foot-1, 200-pound left winger spent this past season playing with Smiths Falls of the Canadian Hockey League (CHL). In 27 games, Buonincontri recorded 36 points (18g, 18a) in 27 games. He posted six power play goals and is already committed to play at St. Cloud State. Another newcomer up front is Keith Burchett from Oak Brook, IL. He spent last season with the Chicago Mission Major Midget team where he posted 39 points (17g, 22a) in 31 games with the Mission. The 6-foot, 190-pound winger tallied four goals on the power play and helped lead the Mission to a first place finish.
Defensively, the Stampede will have a veteran presence as they return Ed McGovern, Peter Hand, R.J. Majkozak, and Victor Bjorkung. Bjorkung was acquired by the Stampede from Fargo half way through the season and tallied 16 points (5g, 11a) and was a plus-15 in 34 games with the Herd. McGovern was a plus-19 with 10 points and appeared in all 64 games last year with the Herd.
Blue line newcomers include the Herd's first round draft choice, Chad Duchesne from Inverary, Ontario. The 5-foot-11, 175-pound defender spent this past season playing with the Kingston Voyageurs of the Ontario Junior Hockey League (OJHL). He was second leading defenseman on the team with 24 points (7g, 17a) in 51 games while leading the Voyageurs to the playoffs. He has already committed to play Division I hockey at Northeastern. Dan Fritz from Harwood, MD is a left-handed shot who skated with Canterbury High School in Connecticut where he tallied 26 points (3g, 23a) in 27 games last season. He was one of just two defensemen to be selected as a Western New England Hockey All-Star.
In goal, David Jacobson returns to Sioux Falls. Jacobson appeared in 12 games last season with the Herd, putting up some impressive numbers. He went 3-0-0 with a 1.51 Goals-Against-Average (GAA) with a .900 save percentage. Shane Starrett will also see time in goal this season. He was selected in the fourth round of the 2013 USHL Draft and brings an impressive resume to the team. The 6-foot-5, 180-pound Bellingham, MA native went 25-15-5 with Selects Academy this past season, posting a 1.96 GAA and a .914 save percentage. He has already committed to play collegiate hockey at Boston University.
The Stampede will open pre-season play this Friday in the first of three games at the USHL Atlantic Challenge in New Jersey. The Herd will face Cedar Rapids on Friday at 7 PM (Central) before facing Youngstown at11:30 AM on Saturday and Muskegon at 10 AM on Sunday. Friday's game can be heard on KELO News Talk 1320-AM while Saturday's game can be heard on KWSN AM-1230 & FM-98.1. All three games can be viewed onwww.fasthockey.com. Click here for more information.
The Herd's home opener is set for Friday, October 4th at 7:05 PM against the Omaha Lancers. The Stampede will be unveiling their 15th Anniversary logo and promotional calendar in the coming weeks. Group, season and suite tickets are now available through the Stampede office by calling 605-336-6060 or by emailing info@sfstampede.com.
Courtesy: Sioux Falls Stampede