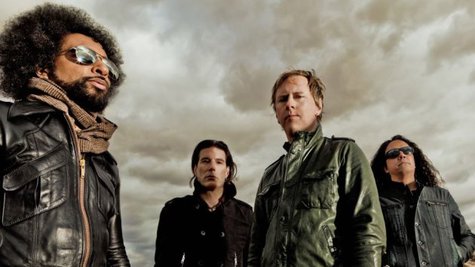 Alice in Chains is giving us a double dose of videos featuring tracks from its latest album, The Devil Put Dinosaurs Here . On Thursday, the band posted clips for both "The Devil Put Dinosaurs Here" and "Voices" on their YouTube channel.
The video for " The Devil Put Dinosaurs Here " follows the cast of a children's TV show as they prepare to tape their next live episode. While things seem to be going well in the beginning, they quickly take a turn for the worse when the cast begins to fight with each other and trash the set, much to the horror of the children watching the program at home.
The band takes a much different approach for its " Voices " video. That clip features the guys performing the track in a bar, interspersed with footage of neon signs and billboards that feature the song's lyrics.
Alice in Chains is currently trekking across North America on the Rockstar Energy UPROAR Festival. Other bands set to take the main stage on the tour include Jane's Addiction , Coheed and Cambria , Middle Class Rut and former Guns N' Roses bassist Duff McKagan 's new band, Walking Papers .
Copyright 2013 ABC News Radio