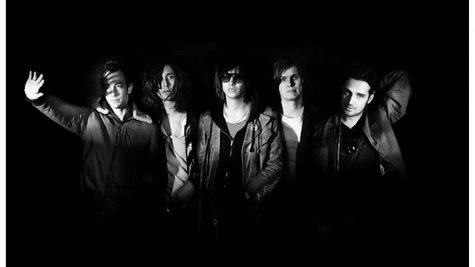 The Strokes ' well-publicized refusal to discuss or tour behind their latest release, Comedown Machine , left quite a few fans scratching their heads, but now guitarist Albert Hammond Jr. has revealed why the group chose to stay out of the spotlight following the record's release.
"We just made a decision to keep a [lid on it]," he tells NME . "We thought it'd be cool to keep a quietness to it, to see what a record would do [if you could only] listen to it."
Hammond adds that while the band is "in a great place," he can't comment on whether or not the group will ultimately hit the road to promote the album.

In other Hammond news, the guitarist recently announced he'll be releasing a new solo EP on October 8, titled AHJ . The upcoming release includes five original songs: "Cooker Ship," "Strange Tidings," "Carnal Cruise," "Rude Customer" and "St. Justice." The EP will also be available on a limited-edition ten-inch vinyl record at select record stores.
Copyright 2013 ABC News Radio