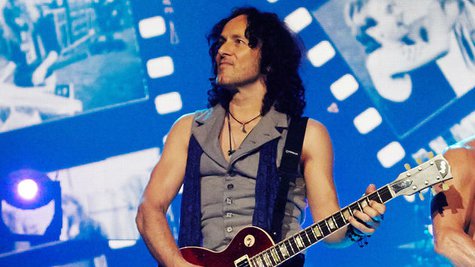 Next month, Def Leppard will release a live album and DVD capturing the band rocking out during its Viva Hysteria! residency at Las Vegas' Hard Rock Hotel & Casino this past spring. While the shows were by all reports celebratory events, guitarist Vivian Campbell admits that he had quite an emotional hurdle to overcome to get into the spirit of the performances.
The 51-year-old rocker tells ABC News Radio that he received word that he had cancer just as the band began preparing for the Vegas residency.
"I actually got my cancer diagnosis right before we started these shows in March," he explains. "It literally was the first day of rehearsal, I went in for a surgical biopsy, and then, the next day, my oncologist called me to tell me that I had Hodgkin's lymphoma."
Campbell adds that his illness was caught early enough so that his doctor was comfortable allowing him to play the Vegas shows before starting his chemotherapy treatments.
He notes that throwing himself into his work has helped him deal with his diagnosis, but admits that it "was just a little bit weird for me being in Vegas and doing these shows…and playing rock 'n' roll and knowing that I've got a cancer."
Vivian adds that even after beginning chemotherapy, he's "continued to work all through the summer." That included a series of European and North American dates with Def Leppard and, more recently, several U.K. concerts with a new project called Last in Line that features members of Dio 's early 1980s lineup.
"I'm keeping busy, but I find that that's good therapy for me," he points out. "Physically it is a little bit tough, you get tired, but it's good mentally to keep moving forward."
Campbell also points out that it's important to keep a positive outlook in the face of his illness. "When you get a cancer diagnosis, you really have to rearrange your priorities in life," he maintains. "In a lot of ways, it's like making lemonade out of lemons…I've really enjoyed the focus on my work it's brought to me, you know? I've really gotten back into my guitar playing."
Besides the treatments sapping some of his energy, Vivian tells ABC News Radio that they have had another side effect.
"I happen to have lost all of my hair," he reports. But in a way, that's not a bad thing for two reasons. Number one, I just turned 51, so at 51 years of age I kind of need an excuse for a grown-up haircut. And number two, it really takes any sort of vanity out of the equation. Now, my entire focus is just about how I'm playing guitar."
While Def Leppard has no other concerts planned for 2013, Campbell intends to continue to stay busy playing music, and is just about finished with his chemo treatments.
Meanwhile, the Def Leppard Viva! Hysteria Concert video will be screened in theaters across North America in early October before being released as a DVD, Blu-ray and two-CD/DVD set on October 22 .
Copyright 2013 ABC News Radio