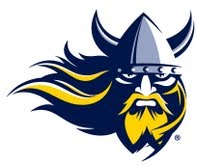 ANCHORAGE, Alaska (KWSN) – Augustana moved to 2-0 on the season with a steady dismantling of Texas A&M-Kingsville 25-17, 25-13, 25-22 on Friday afternoon at the SpringHill Suites Invitational. The Javelinas are saddled with a season-opening loss to the Vikings.Taylor Hrdlichka's efficient attacking led the Vikings to an astounding .402 attack percentage for the Vikings.
Hrdlichka finished with 11 kills on 14 attempts and just one error for a .714 attack percentage.Marissa Johnson set up her Viking hitters well with 43 assists for a 14.3 assists/set average. Libero Kayla Wallerich racked up 15 digs – her second double-digit-dig game of the season – to hold the Javelinas to a .150 attack percentage.Augustana used a couple of runs early in the first set to hold a brief advantage and a third distanced the Vikings from the Javelinas for a 25-17 first-set win.
After an 11-11 tie, Augustana used four TAMUK errors as part of a 5-0 run. Courtney Ysker tallied seven kills in the first set without an error to lead the Vikings to a .419 attack percentage in the first set.The Vikings ran away in the second set with a 25-12 victory to take a 2-0 lead in the match. Ysker continued to play at a blistering pace, knocking down five more kills to lead the Vikings on a methodical defeat of the Javelinas. Redshirt freshman Kelsey Kaufmann also started to heat up – she finished the first two sets with six kills.In a tight third set, the Vikings used a late surge and some strong play from Hrdlichka to put the Javelinas away, 25-22.
Freshman Brittany Cech recorded five kills in the third set to finish with nine for the match. Cech and Holly Hafemeyer blocked TAMUK's Kelsey Washington's attack attempt to seal the match in favor of the Vikings.Holly Hafemeyer added nine kills for the Vikings and Augustana scooped up 51 digs as a team.
The Vikings continue play tomorrow at the Wells Fargo Center in Anchorage, Alaska with matches against American International and Alaska-Anchorage at 6 and 10:30 p.m., respectively.
Courtesy of Augustana College