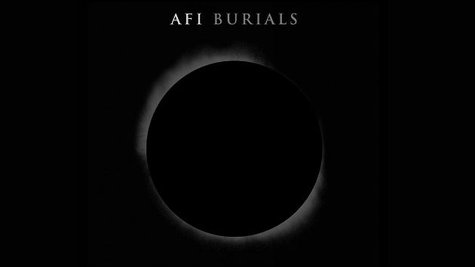 With a little more than a month until AFI releases their Burials album, the band has unveiled the official cover art for the set on their Facebook page . The cover's a somber one: it features a picture of a lunar eclipse.
The group has also revealed the track list for Burials , which is set to arrive at all the usual outlets on October 22. The upcoming record features 13 tracks, including their current single, "17 Crimes." In addition, a remix of "17 Crimes" can be heard in the new film, The Mortal Instruments: City of Bones , which is now in theaters.
AFI will be hitting the road to promote Burials with a headlining tour this fall. That North American trek kicks off on Thursday at the Varsity Theater in Minneapolis, MN. Visit AFireInside.net to view the full itinerary.
Here is the track list:
"The Sinking Night"
"I Hope You Suffer"
"A Deep Slow Panic"
"No Resurrection"
"17 Crimes"
"The Conductor"
"Heart Stops"
"Rewind"
"The Embrace"
"Wild"
"Greater than 84"
"Anxious"
"The Face Beneath the Waves"
Copyright 2013 ABC News Radio