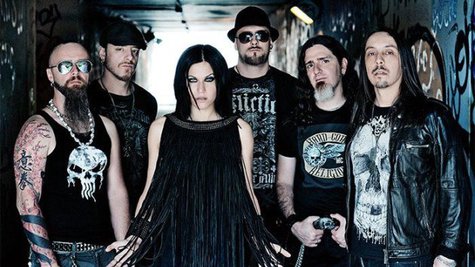 Good news for Lacuna Coil fans: the band is in the studio working on their next studio album.
The group delivered the announcement on their website , noting that they have already begin recording new cuts with producer Jay Baumgardner , who has previously worked with P.O.D. , Sevendust , Evanescence and Papa Roach .
"I am so excited to work on new stuff…I am sure a lot of people will be mesmerized by the cinematic vibe of the new album that's underway," says frontwoman Cristina Scabbia in a statement. "I'm very happy to have the chance to work with Jay. Not only is he a pro in what he does, but I am just loving the fact we are going to experiment with new sounds and are getting a different point of view about our art."
While a title and release date for the album have yet to be revealed, the band notes they plan on finishing the recording sessions for the release sometime before the end of October.
Lacuna Coil's previous album, 2012's Dark Adrenaline , debuted at #15 on the Billboard 200 albums chart, with around 20,000 copies sold its first week out.
Copyright 2013 ABC News Radio