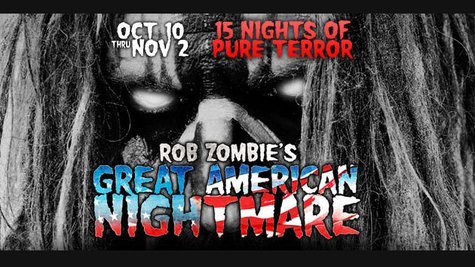 Rob Zombie is giving us a sneak peak of what he's got in store for anyone who attends his upcoming Halloween-themed event in Los Angeles, Great American Nightmare. The singer has just posted a trailer for the event, which will feature three fully-immersive haunted house experiences: Lords of Salem Total Black Out, The Haunted World of El Superbeasto 3D, and Haunt of 1,000 Corpses.
The one-minute clip features scenes from Zombie's movies, interspersed with footage of demonic figures drenched in blood and panicked women being chased by chainsaw-wielding maniacs as they make their way through the attractions.
The Great American Nightmare will be held every Thursday, Friday, Saturday and Sunday from October 10 through November 2 at the Fairplex FEARplex just outside of Los Angeles in Pomona, California. In addition to the haunted houses, the event will feature 15 nights of concerts, including sets by Zombie, Eagles of Death Metal, Andrew WK , The Used and Goldfinger , among others.
Copyright 2013 ABC News Radio