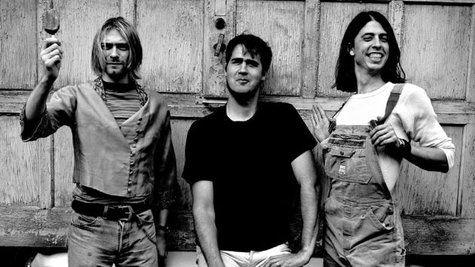 While Nirvana 's concert DVD, Live and Loud , won't arrive in stores until Tuesday, fans will be able to get a first look at it on their TV screens. VH1 Classic will be offering a commercial-free broadcast of the program on Monday at 8 p.m. ET/PT.
Live and Loud documents Nirvana's concert at Pier 48 in Seattle, WA, on December 13, 1993. To give you an idea of what you can expect from the show, excerpts of the band performing "Heart-Shaped Box" and "Rape Me" can be viewed at MTV.com. MTV and VH1 will also premiere never-before-seen rehearsal performances of "Radio Friendly Unit Shifter" and "Very Ape" on Monday, which include footage of late frontman Kurt Cobain playing the drums.
In addition to being sold separately, Live and Loud will be included in the Super Deluxe Edition of Nirvana's 20th anniversary reissue of In Utero , which features more than 40 previously unreleased demos, rehearsal tracks, B-sides and live performances spread out over three CDs. That release will also be available starting Tuesday.
Copyright 2013 ABC News Radio