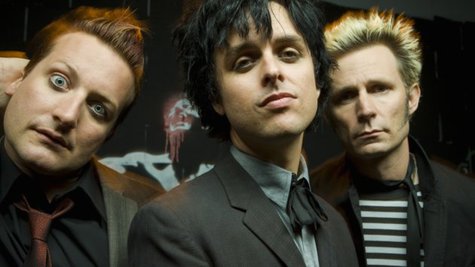 Green Day 's ¡Cuatro! documentary won't arrive in stores until Tuesday, but you can watch a little preview of it now. The band has unveiled a clip from the flick, which offers an inside look at what the band went through while making their ¡Uno! ¡Dos! ¡Tré! album trilogy, on their YouTube channel.
The three-minute clip features footage of frontman Billie Joe Armstrong putting together the demo for "Missing You," a single from 2012's ¡Tre! , and then taking it to bassist Mike Dirnt and drummer Tre Cool so they can record it.
"Over the last year while we were recording our trilogy, we posted multiple clips every week so fans can see parts of the recording process of ¡Uno! ¡Dos! ¡Tré! ," Dirnt says about the film in a statement. " ¡Cuatro! brings our fans one step closer by giving them even more access and revealing what it was like for us to make these records."
Green Day's other documentary Broadway Idiot , which chronicles the musical Broadway adaptation of their 2004 smash hit album American Idiot , will be released in theaters next month. That flick will screen first in New York on October 11, and then arrive in other U.S. and Canadian theaters and video-on-demand on October 18.
Copyright 2013 ABC News Radio