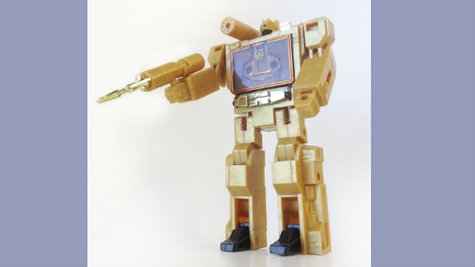 Linkin Park has taken their love of Transformers to the next level. The band's DJ, Joe Hahn , has designed a limited edition Linkin Park branded action figure of the Transformers character Soundwave.
The Linkin Park G1 Soundwave Transformer is approximately seven-inches tall, converts from a robot to a cassette player and comes with four cassette minions that fit into its chest.
Linkin Park has a long history with the Transformers movie franchise: the group has provided songs to each of the film's soundtracks. "What I've Done" from 2007's Minutes to Midnight was featured in 2007's Transformers ; "New Divide" served as the theme song for 2009's Transformers: Revenge of the Fallen ; and "Iridescent" from 2010's A Thousand Suns was included in the soundtrack for 2011's Transformers: Dark of the Moon .
The Linkin Park G1 Soundwave Transformer will run you $150 and can be purchased at SURU LA and its online store . Hats and t-shirts bearing the action figure's design are also available.
Copyright 2013 ABC News Radio