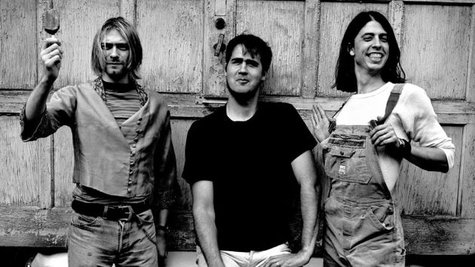 Dave Grohl says while he had a bond with Kurt Cobain during his time in Nirvana , it didn't compare to the connection that bassist Krist Novoselic had with the late frontman.
"The two had such a beautiful, unspoken understanding of each other," he tells Rolling Stone . "Those two guys, together, totally defined the Nirvana aesthetic. Every quirk, all the strange things that came from Nirvana came from Krist and Kurt."
Even though he lived with Cobain for a period of time, Grohl reveals he found it difficult to get close to him. "He isolated himself in a lot of ways, emotionally," he notes. "But he had a genuine, sweet nature. He never intentionally made you feel uncomfortable."
The 20th anniversary reissue of the band's third and final studio album, In Utero , arrived in stores on Tuesday. Grohl says he has problems listening to the release because it reminds him of Cobain's demise. "To me, if you listen to it without thinking of Kurt dying, you might get the original intention of the record," he explains.
Grohl adds while his kids know about his history with the group and that Cobain died, they don't know that he committed suicide, which will allow them to enjoy the release. "When they listen to In Utero , they'll have that fresh perspective -- the original intention of the album, as a first-time listener. Someday they will learn what happened. And it'll change that. It did for me."
Copyright 2013 ABC News Radio