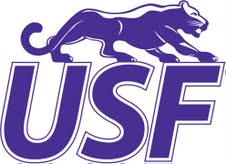 SIOUX FALLS, S.D. (KWSN) – The Sioux Falls men's golf team finished up competing in the Jackrabbit Fall Invitational played at Minnehaha Country Club in Sioux Falls. The Cougars came away from the meet in 8th place out of eight teams with a combined team score of 940 (+88) for the two-day tournament.
Andrew Nelson was the top finisher for the Cougars with his score of 225 (+12) which placed him in a tie for 22nd overall. Nelson shot a 73 in the final round of the tournament which tied his first round score.
USF's Talon Eich finished in 32nd place for the Cougars with his score of 230 (+17). Eich rebounded from his second round score of 81 by shooting a 77 in the final round.
The Cougars scorecard was rounded out by Jon Van't Hul (235, +22), Josh Atkins (251, +38) and Nicholas Skajewski (258, +45).
South Dakota State University took the men's team title with their score of 817 (+19). North Dakota State took runner-up with their team score of 961 (+109).
The men's golf team will compete next at the NSIC Fall Championships in Brainer, Minn. beginning on Sunday September 29.
Courtesy of University of Sioux Falls