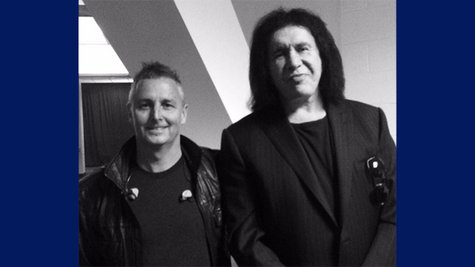 Count Mike McCready as a member of the KISS Army. The Pearl Jam guitarist admits to Rolling Stone that he fell for the band when his sixth-grade friend came to school with a KISS lunchbox, "and then I had a KISS room and I started playing guitar."
It turns out all of Pearl Jam's members are big KISS fans. Some interesting information about Pearl Jam and KISS:
-- Mike McCready dressed up as Peter Criss for Halloween in 1976, when he was in sixth grade. There's even a photo in the Rolling Stone piece;
-- The Pearl Jam guys "sit down and have conversations about KISS all the time on tour";
-- Ace Frehley joined Pearl Jam on stage at Madison Square Garden in 2008 to play the KISS classic, "Black Diamond";
-- Drummer Matt Cameron used to play in a KISS tribute band -- and they got so popular that KISS' record label sent them a cease & desist letter;
-- McCready based the guitar riff in "Alive" on the KISS song "She."
Oh, and the question that's on everyone's mind as the April 10 Rock and Roll Hall of Fame induction looms closer: how does McCready feel about KISS choosing not to perform at the ceremony? Well, he says, "I've been watching [this] p lay out. I saw Heart play with their original lineup...when they got inducted in the Hall of Fame. And then they got up with their new lineup, and everybody loved it. [So] it can be done, and I wish [KISS] would do it. It just makes the fans happy. And that's the point, in my mind."
Copyright 2014 ABC News Radio