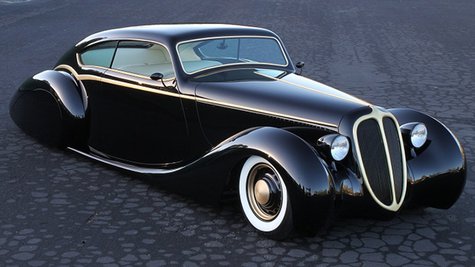 In all the time that he hasn't been recording a new Metallica album, James Hetfield built a car from scratch. Not himself, of course -- the sleek, sinister vehicle was constructed by Marcel and Luc DuLay , two legends in the field -- but from a sketch the singer made. Unlike many other so-called "custom" cars, this one -- which Hetfield named the Black Pearl -- was made completely from scratch, using sheets of aluminum custom-curved to form the body.
The car is killer, and just won the 2014 Mother's Custom Award at the Goodguys Rod & Custom Association 's annual All-American Get-Together.
According to Goodguys, the Black Pearl's "sculpted, handmade aluminum body is inspired by the tear drop contours and seamless body transitions of coach built European and American cars of the 1930s. It rests on a custom built chassis which utilizes the outer frame rails of a 1948 Jaguar."
Goodguys' John Drummond tells ABC News Radio that Hetfield has been a lifelong hot rod enthusiast and has been collecting custom cars for the last decade or so.
Hetfield tells Goodguys that he was blown away by the craftsmanship of the Black Pearl. "As an artist myself, I see the passion, dedication and perfectionism it takes to be good at your craft," he said. "I am humbled by [the designers'] gift of metal sculpting. The fact that they started with a 8×10 drawing and ended up with a complete car is a testament to the ability of the human mind and hands. It still blows people's minds when they ask what body we started with and we say 'steel sheets.'"
Oh, and how much did the Black Pearl cost? Drummond says, "James said not to put a number on priceless art."
Copyright 2014 ABC News Radio