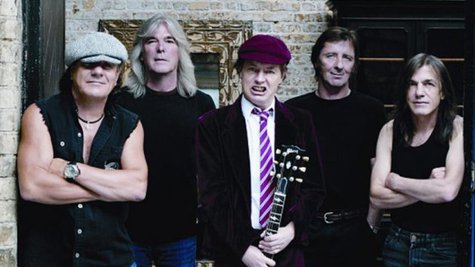 So the truth is, AC/DC is not retiring, but one member of the band is indeed ill. That's according to frontman Brian Johnson , who tells Wednesday's edition of London's Telegraph newspaper, ""We are definitely getting together in May in Vancouver. We're going to pick up some guitars, have a plonk, and see if anybody has got any tunes or ideas. If anything happens, we'll record it."
Johnson's statements contradict growing rumors this week that AC/DC is retiring because of the band members, rumored to be guitarist Malcolm Young , is ill, with some reports claiming he's recently suffered a stroke that's left the 61-year-old unable to play, or to play well.
Johnson will only confirm that someone in the band is ill. "One of the boys has a debilitating illness, but I don't want to say too much about it," says the singer. "He is very proud and private, a wonderful chap. We've been pals for 35 years and I look up to him very much."
AC/DC's last album, 2008's Black Ice , was a huge success, and the tour that followed was one of the highest-grossing in history, according to Billboard .
"AC/DC is such a tight family," Johnson tells the Telegraph . "We've stuck to our guns through the eighties and nineties when people were saying we should change our clothes and our style. But we didn't and people got it that we are the real deal."
Copyright 2014 ABC News Radio