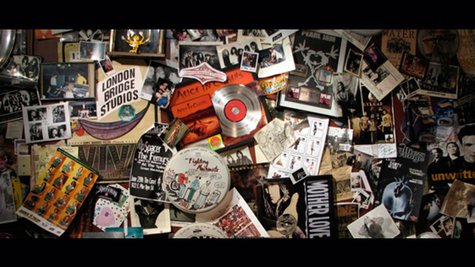 London Bridge Studios in Seattle is the site where many a formative album was recorded -- Pearl Jam 's Ten; Soundgarden 's Louder Than Love; Dirt, Jar of Flies , Facelift and Tripod -- all from Alice in Chains ; and the self-titled albums from Candlebox and Blind Melon , among many others. Those albums were molded and shaped by a vintage recording console called made by Neve, which the studio holds in high esteem -- so high, in fact, that it's asking for funds to help save it from the junkpile.
London Bridge says it'll cost $75,000 to rebuild the aging hulk of sonic goodness and they've started a fundraising campaign through IndieGoGo to collect money toward the goal.
There's bang available for your buck -- $35 gets you a grunge-tastic t-shirt. $150 gets you two shirts, plus a private tour for two. For $250, your name gets inscribed on the recording console for the Eddie Vedder s of the world to mouth their thanks to.
Here's where it really gets interesting -- wanna be the next Alice in Chains? For donations between $650-850, you can get time with London Bridge Studios producers and engineers. The first band to kick in $1,500 gets to be the last band to record on the Neve, and the first band to flip $2,500 toward the cause gets to run the first licks through the reconditioned Neve.
The grand poobah of donations is $15,000 -- this gets you a top-shelf secret producer twiddlin' the Neve's knobs on your next album.
As of this writing, London Bridge Studios still had a ways to go to reach the goal. Hit IndieGoGo.com to help preserve grunge history.
Copyright 2014 ABC News Radio