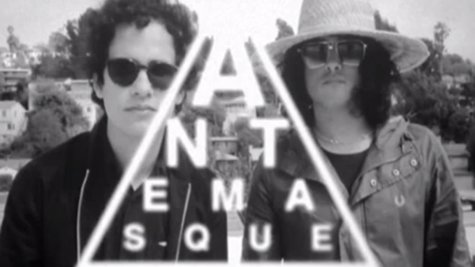 The creative flow from the former Mars Volta camp just won't stop. As previously reported, former MV members Dave Elitch , Omar Rodríguez-López and Cedric Bixler-Zavala have formed a new project called Antemasque and released some tunes. Red Hot Chili Peppers bassist Flea will guest on some of the new band's album, but is not an official member.
Their first single, called "4 AM," is streaming on YouTube and it's for sale through iTunes.
The band immediately followed up that single with a second, called "People Forget." It's also streaming on YouTube .
The band has a trailer streaming online, and there's a featurette in which you can see them fooling around in the studio.
There are now two additional songs available online -- "Hangin' in the Lurch" and "Drown All Your Witches" -- which brings Antemasque's total to four.
In more Antemasque news, the band will release a full-length CD on July 15. Details on how to get it a little early are available on the band's Facebook page or their website, NadieSound.com .
The Mars Volta announced a hiatus in September 2012, followed by a tweet from Bixler-Zavala in January 2013 that announced the band's breakup. The split was rumored to have been the result of a falling-out between him and Rodríguez-López, both of whom quickly announced new projects.
Copyright 2014 ABC News Radio